http://www.xfire.com/communities/easywinclan/
There is link to our Xfire Community.
We have groups:
Administrator: Leader, Devi
~eW`~>Clan: eW clan members
~eWA`~>Academy: academy members
Guests: all others
We wanted to have only ~eW` members in this group, but we decided to create rank: Guests.
Why?
When you join to this group, you can see new bookmark with all players which are in Easy Win Clan Community: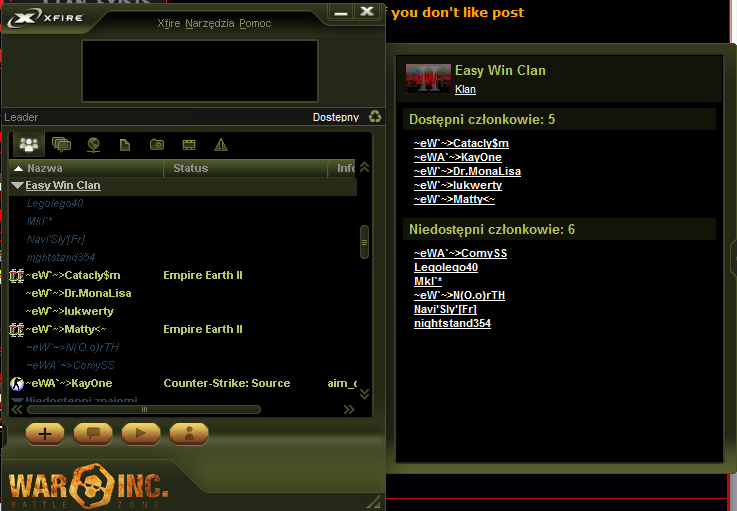 And why it's cool? You don't need to add these players to your friend's list.
For example if you are starting with Xfire, you don't need to search all nicknames. When you join to this group you can always see EE2 players which are online. You can add them to your list, but you don't need to. With this we all can have better contact, for example to "collect" players on EE2.
This group has been opened for guests, because we are just "one, big family". Doesn't matter who is in clan and who is not in - everyone EE2 player can join to this group.
It's very usefull thing, and I hope that everyone will join to it

If you want to join, visit site:
http://www.xfire.com/communities/easywinclan/
And click: Join Clan
Of course you won't join to ~eW`~>CLAN (because you need to make application on the forum if you want to), but you will join our group on Xfire.
You be added when Administrator (me or Devi) will accept your request, so it can take max 24 hours.
I hope you enjoy!