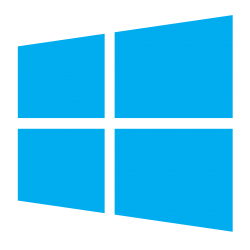 EE2 - Empire Earth II and Windows 8 / 8.1 / 10
Empire Earth 2 is compatible with Windows 8, however sometimes new "explorer.exe" doesn't allow you to maximize the game.
Empire Earth 2 works on Windows 8 only if the screen settings that u have selected in the game are suitable to the screen resolution of your system.
For example if your system uses screen resolution: 1024x768 and Empire Earth 2 uses 1024x768 - the game will work fine.
To check what screen resolution Empire Earth II uses - open a file settings.cfg with notepad. The file is in C:\Users\YourUsername\AppData\Roaming\Sierra\Empire Earth II\settings (C:\Users\YourUsername\AppData\Roaming\Sierra\Empire Earth II The Art of Supremacy - for expansion pack: Empire Earth 2: The Art of Supremacy).
Current screen resolutions with
unofficial version 1.4
:
//// = real display resolution
displayMode = Res800x600x32  /// =  800x600
displayMode = Res1024x768x32  /// =  1024x768
displayMode = Res1152x864x32  /// =  1366x768
displayMode = Res1280x960x32  /// =  1600x900
displayMode = Res1280x1024x32  /// =  1280x1024
displayMode = Res1600x1200x32  /// =  1920x1080
Player: "Tbez" found a solution on
answers.microsoft.com
Unfortunately his solution doesn't work with Empire Earth II if we want to play online, via LAN.
That's why I created a new ".bat" file (currently ".exe") for Windows 8 users, available to download here:
INFORMATION:
Unofficial Patch 1.5 has been released! Unofficial Patch 1.5 supports 42 screen resolutions and solves all Windows 8 / 8.1 / 10 problems, so the FIX is not longer needed! Click here to download UP1.5 (Click)
https://ee2.eu/patch
Spoiler (old version of the post)
Show
Empire Earth 2 and Empire Earth 2: The Art of Supremacy Windows 8 FIX - Works with GameRanger:
Version: 4.0, Last update date: 02.08.2014.
To download open a link and wait for 5 seconds, then click "Skip Ad" button in top-right corner:
Click to DOWNLOAD EE2, EE2X Windows 8 FIX
Other servers:
Mediafire.com
,
Mega.co.nz
[iframe]scrolling=no frameborder=0 marginwidth=0px marginheight=0px src=
http://www.ee2.eu/h38-ad
style=height:90px;width:743px[/iframe]
Total downloads of version 4.0 (since 04.08.2014):
[iframe]scrolling=no marginwidth=2px marginheight=2px frameborder=0 height=38px width=150px src=
http://patch.ee2.eu/patch15/windows8fix ... nloads.php
[/iframe]
Download and save the file anywhere. It's not necessary to save the file into Sierra/Empire Earth 2 folder! Then just turn it on.
WARNING!
Windows 8 / 8.1 SmartScreen may block this "unrecognized app from starting". The file is harmless, here is Anti-virus scan for the file:
EE2.EE2X-Windows8-FIX-by.DrMonaLisa.exe
. If you're still unsure about it - simply don't download / use the fix.
If you get the SmartScreen message, click on: "More info":

And then on the: "Run anyway" button.
How it works?
The program detects (every 5 seconds) if EE2.exe is running, but when you press any key it detects immediately.
When it detects that you started EE2.exe (for example the game on GameRanger started) - it kills explorer.exe (which is causing the problem on Windows 8 ) :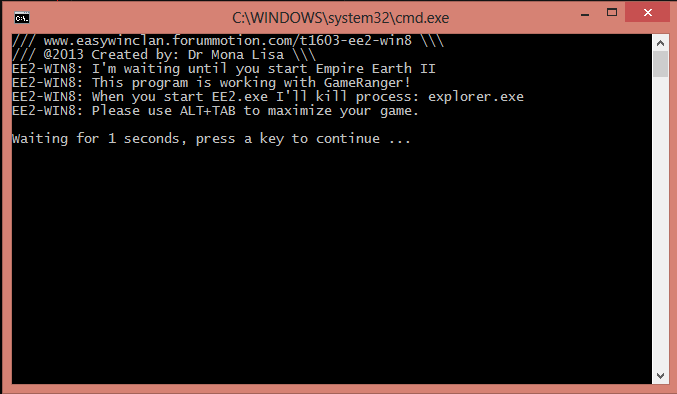 After that program is checking every 30 seconds if EE2 is still running. If it's not, then program turns on explorer.exe.
You can wait < 30 seconds or you can press any key to start explorer.exe immediately: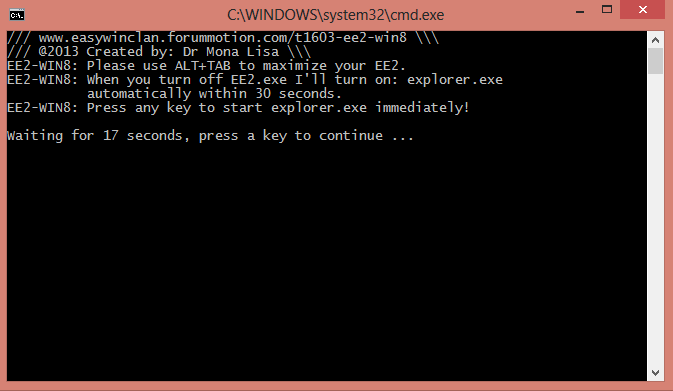 I hope this program will help Windows 8 users to play EE2.
[iframe]width=640 height=480 src=
https://www.youtube.com/embed/lcjjfuxfbbm
frameborder=0 allowfullscreen[/iframe]
If you like my work, you can donate me with paypal! Thanks!
[iframe]scrolling=no marginwidth=2px marginheight=2px frameborder=0 height=53px width=150px src=
http://www.forum.ee2.eu/h28-donate
[/iframe]