Posts: 112
Joined: 26 Jul 2012, 11:22
well....... I think the Title says. all. I think hes a real noob. I heard about really weird settings from a guy which name i dont say. He calls the good players as cheaters. Maybe is he the cheater lol. Ok Its not ok to insult other players as cheaters when even is not that good like others. It gone so far that he even blocks me or Dester or Schalke. Well let us discuss about it ^^
TheGrouchDE

Department of Modding and Testing
---
---
Posts: 55
Joined: 13 Mar 2011, 11:22
---
Posts: 20
Joined: 14 Nov 2012, 11:22
Location: the place of love
eheheh...because he doesn't like you.
He didn't blocked me even if I told him in the fuc**ng face that I cheated vs him.
Btw i did that just for fun,because I was owning him even without cheats
---
High Representative
Posts: 7590
Joined: 17 Jun 2010, 11:21
Location: Poland
Well, well, well...
Maybe Coo1 isn't a problem, but you guys are the problem? Maybe you shouldn't cheat against him?
I'm kidding. Seriously... He's waiting for a game for like 5 hours, he blocked half of the World. He blocked everybody who ever won a game against him.
I think we shouldn't care when Coo1 calls us "cheaters", because... he named as "cheater" 90% of Empire Earth II population.
I'll talk to him, and tell him how to record games. Then I'll tell him how to send playbacks (.e2s files), and I'll be testing, proving that nobody has cheated against him...
Edit:
CompagniaDellaMorte wrote:eheheh...because he doesn't like you.
He didn't blocked me even if I told him in the fuc**ng face that I cheated vs him.
Btw i did that just for fun,because I was owning him even without cheats
-.-
Edit 2: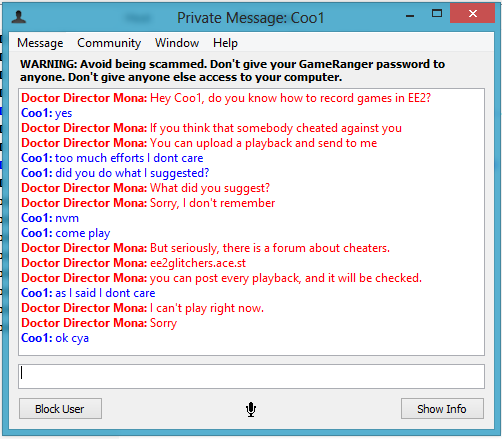 My work is done xD I informed him about his rights

Best regards,
Dr.MonaLisa
Ministry of Game Affairs
Department of Control and Complains
---
Posts: 112
Joined: 26 Jul 2012, 11:22
lol nice nice maybe, but its annoying to block me without to know how good i am. And all know my game niveau and my skill. The skill is that i have no lol. All know i play for fun. Thats the importants. He saw me one time playing. I cant understand this guy cause in my opinion its the best to have fun and make fun with bugs or my ENDSIEG action attack with the citizens lool ok back to theme. I dont know really much about him and how good he is. If he loose against all must show that were no cheaters. More that he should have to work how to get better. I actually like to make this. In different to years before i become some better not much but its ok.
TheGrouchDE

Department of Modding and Testing
---
Posts: 20
Joined: 14 Nov 2012, 11:22
Location: the place of love
ok
I officially joined the "blocked from uncoo1 club" after these messages.
---
He just blocked me for no reason. We played a normal game and he said right at the beginning "I don't like cheaters". We played on pangea and he was on a small island somehow but I really did't affect his starting-position (the hell! - I dunno how to do that). After that game he kicked and block me without any statement.
---
Coo1 has been playing for as long as I remember, he plays on the settings that no one would even want to play, but he doesn't compromise, so you play on his settings or not. Funny enough when I had a real bad computer and I had just gotten back from a 1 year break from EE2 I beat him easily.
Ministry of Game Affairs
Department of EE2 History and Oldschool Players
---
I can't believe this guy has never played a 5-5 or any other famous settings... Oh seriously, how is that even possible?
---
5-5 is boring to him as he said. and this was told when he and many other guys were observing Devi vs. spiel_vanya. it was the most beautiful 5-5 I have ever seen. pure fight on whole small map for more then 30 min.
Last edited by
Tojo
on 25 Nov 2018, 15:06, edited 1 time in total.
---