I'm sorry for long waiting time for decision, but it's fault of Ministery of Justice.
Poll closed with score: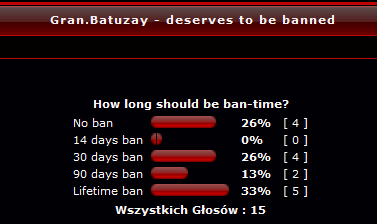 The score is not good for decision.
I've to send the case to the Crisis Staff of Empire Earth II:
http://www.forum.ee2.eu/t807-empire-ear ... isis-staff
Crisis Staff has to decide in 3 days.
The Crisis Staff poll will have only 2 options available:
- 30 days ban
- 90 days ban